Anestis Logothetis
Centenary Symposium
7-8 December 2021, Athens, Greece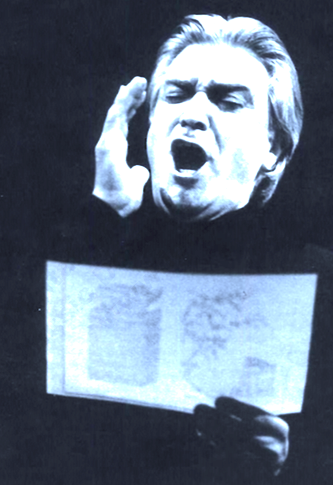 Call for submissions
Anestis Logothetis (1921-1994) was a unique pioneer of 20th century music. By redefining the roles of the composer, the performer(s) and the audience and by multimodally capturing expressive musical elements that would normally be perceptible exclusively through sound, his graphic notation constitutes a milestone towards new conceptions of music as a temporal art form.
The Music Department of the National and Kapodistrian University of Athens invites researchers of Logothetis'work to a symposium celebrating his 100th anniversary. Beyond the obvious focus on his own compositional practices and aesthetic ideas, of special interest would be scholarly and artistic research contributions around a wider range of practices that resonate with Logothetis' work. Such practices could include both historical instances of graphic/verbal scores, as well as the latest developments in technologically advanced forms of notation, visualization, representation and human-machine interaction in music. In this way, we wish to rethink the multimodal focus of Logothetis' work beyond its own time, as a precursor of contemporary and future tendencies through explorations in multimedia, cybernetics and interaction.
Next to the academic conference, two concerts of Logothetis' music by renowned ensembles and soloists will take place at the Greek National Opera and at the University of Athens Concert Hall.
Indicative Topics
Aesthetics, Philosophy, Politics

Instrumental music

Electroacoustic and Computer Music

Music theory, Analysis

Graphic Notation

Computational music models

Visual arts, Architecture, Space

Performance studies

Technology interaction, new media

Hörspiel Analysis

Archival research

Historical contextualisation

Logothetis's influence on today's music and artistic practice
The symposium's language is English.
Proposal Submission
Extended abstracts of up to 500 words and a short CV should be submitted by email to anestislogothetis2021@gmail.com, no later than September 10, 2021.
Notification of acceptance: September 30, 2021.
For further information on Logothetis:
http://anestislogothetis.musicportal.gr/home/?lang=en
https://hellenicmusiccentre.com/index.php?id_category=28&controller=category&id_lang=1
Organizing Committee:
Anastasia Georgaki (Professor, Head of Μusic Department, University of Athens)
Iakovos Steinhauer (Assistant Professor, University of Athens)
Pavlos Antoniadis (Post-doctoral research fellow, Technical University of Berlin / Alexander von Humboldt Foundation)
Maro Baveli (Composer, PhD Candidate, University of Athens)
Special thanks to Julia Logothetis for granting us access to the Logothetis archive.

Scientific Committee:
Markos Tsetsos (University of Athens)
Minas Alexiadis (University of Athens)
Areti Andreopooulou (University of Athens)
Iakovos Steinhauer (University of Athens)
Joseph Papadatos (Composer, Ionian University)
Ioannis Zannos (Ionian University)
Athanasios Zervas (University of Macedonia)
Danae Stefanou (Aristotle University)
Pavlos Antoniadis (Technical University of Berlin)
Makis Solomos (University Paris VIII)
Georg Hajdu (University of Hamburg)
Pierre Couprie (University Paris-Saclay)
Gianpaolo Evangelista (University of Music and Performing Arts, Vienna)
Panos Vlagopoulos (Ionian University)
Mike Mc Innerney (Composer)
Orestis Karamanlis (Composer, University of Athens)
Dominique Fober (GRAME, Lyon)
Thanos Polymeneas-Liontiris (Composer, University of Athens)
Antonios Antonopoulos (Musicologist, Composer, Music Theorist)
Alexis Porfiriadis (Composer, Performer)