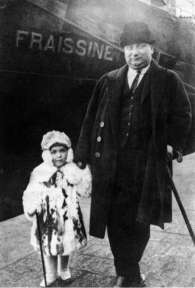 Anestis Logothetis was born 27 October 1921 in Pyrgos of East Romylia (today Burgas of Bulgaria) from greek parents. 1934, under the anti-greek oppressions migrates with his family to Thessaloniki were he finished 1941 the local German School. He was obliged from the conquerors to work as interpreter and in order to avoid that he moves 1942 to Vienna - Austria were he started studies of civil engineer in the local Technical University.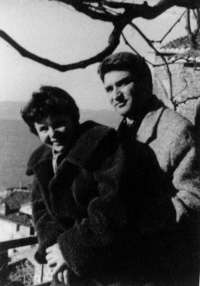 1945 he has started studies on The Academy of Music and Performing Arts of Vienna:  music theory (Erwin Ratz), composition (Alfred Uhl,), piano (Herrmann. Schwertmann) and conducting (Hans Swarowsky). The same year his daughter Julia was born that later become painter. He graduated his musical studies 1951 with honor. 1952 he gets the Austrian citizenship and marries the pianist Maria Stahlich. He took part many times in the Darmstadt summer courses. We was employed as score editor at different music houses (Universal, Modern, Geric).
From 1952 a series of scholarships (most of them from Austrian government), allow him to realize his exp
erimental ideas in composition. He has followed lectures of composition in Rome wit scholarship of the Italian government (1956, 1958-59), and 1957 he worked on Studio of Electronic Music of WDR (Cologne) by Gottfried Michael Koenig. Till the end of 1950 he has developed his own graphical notation system, composing all the rest of his pieces with it. 1981 he was invited from the Electronic Music Studio of Stockholm were he wrote his first piece of computer music. Besides the numerous works for instrument and voices he wrote also operas and radio plays (Hörspiele) in collaboration with many broadcasts (SR/WDR/NDR/ORF).
He was honoured with the «Theodor Körner» price (1960 and 1963), while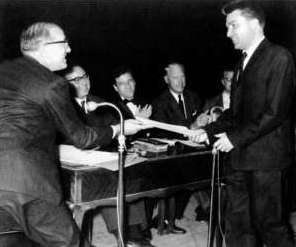 1962 got ex-equo with Iannis Xenakis the 1st price of the "Athens Technological Institute" of Konstantinos Doxiadis (funded by Manos Hatjidakis). He got the Award of the City of Vienna (1985) and Golden Medal of the City of Vienna (1986), the honorary price of the Austrian Federal Ministries of Education, Arts and Sports (1989) and the "Floriana" price for his piece Mantratelurium (1933). Many exhibitions with "graphical scores" were organized in Austria, United States, Athens ("Ora" Gallery 1975) and Thessaloniki. 1994 Logothetis died from cancer.